₪₪₪ Tarot Spread - The Blind Spot ₪₪₪
Card 1
Princess of Cups

Card 2
Temperance


Loyalty, honesty and usefulness

Health, exact measurement, everyday life and rest
Card 3
The Tower

Card 4
Justice


Break, stormy changes and confrontation

Healthy judgment, weighing on all sides and acting justly
Hallo,
The Blind Spot is meant for situations in which you do not know where you stand and need insight into what the situation is about. The cards can show you where you can straighten out your perception. Both inner and outer aspects of your personality will be illuminated. With this spread, four cards are drawn.
The first card provides insight into your identity—this is how you perceive yourself. Your card: Princess of Cups
The second card symbolizes the "blind spot." These are behaviors and characteristics that only others see in you. Your card: Temperance
The third card describes your hidden side: the way you see yourself, but that you do not share with others. Your card: The Tower
You also have a side that is known neither by you nor by those around you. The fourth card reflects these strengths. Your card: Justice
The cards are revealed and interpreted in the sequence shown above.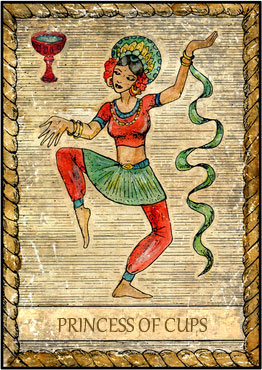 Which identity you attribute to yourself is found through the first card.
You drew the "Princess of Cups" as the first card. The main meaning of this tarot card is: Loving intelligence. Gift of vision. Realization of hopes and wishes. Care and diligence in action.. It generally means: Loyalty, honesty and usefulness.
The card "Princess of Cups" also stands for: Natural growth. Power or authority who the questioner has to obey. Advertising and fame. Reversed it points to: Waste, corruption, scandal, wealthy marriage.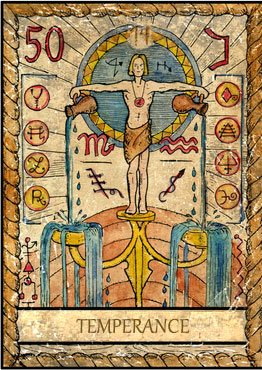 Card 2 shows the external assessment to the questioner
You drew "Temperance" as second card. The main meaning of this tarot card is: Weighing priorities. Healthy and harmonious life. Find the middle way. Opposing interests.. It generally means: Health, exact measurement, everyday life and rest.
The card "Temperance" also stands for: Organization, accommodation, domination, adjustment, balance, compromise, interaction and conflict of interests. Reversed it points to: Church, religion, sect, priesthood and disunity.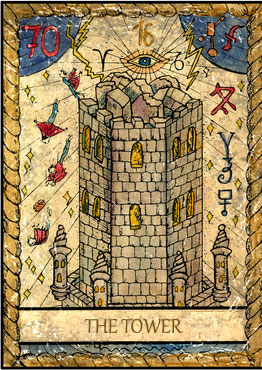 The third card also gives an indication of the self-assessment of the questioner. This assessment, however, is not carried out.
Your third card is "The Tower". The main meaning of this tarot card is: Old structures are breaking down. Liberation and new challenges. House of Life when evil prevails therein. The tower is particularly relevant to unforeseen events.. It generally means: Break, stormy changes and confrontation.
The card "The Tower" also stands for: Materialization of spiritual restlessness, grief, misery, poverty, disgrace, deception, collapse, unexpected danger, doom, destruction, disappointment and ruin. Reversed it points to: Same as above, but to a lesser extent.
Card 4 illustrates the unconscious personality traits that are perceived neither by you nor by your surroundings.
As fourth card you drew "Justice". The main meaning of this tarot card is: To be neutral, to act objectively and fairly, to settle disputes.. It generally means: Healthy judgment, weighing on all sides and acting justly.
The card "Justice" also stands for: Correctness, integrity, conscience, confidence, determination, energy, immovability, strength, moral principles, order, balance, law, justice and courage. Reversed it points to: Legal complications, bigotry, bias, excessive severity, prejudice, misuse of power and despotism.
Now you can calculate the quintessence:
After the cards have been laid out and interpreted, you can still find your quintessence cards. These arise from numerological calculations. Add the worth of each card within your spread and find the sum. This is the quintessence and summarizes what the tarot advises for you.
The court cards (Page, Knight, King and Queen or Prince and Princess) are not counted toward this sum, they have a null value. All other cards count according to their worth, aces are one. In the Rider-Waite tarot deck, you must pay attention to the exchange of the numerical values of Justice and Strength. Justice is counted as 8 and Strength with 11. If, during the calculation, you get a number between 9 and 22, then the corresponding card adds to the counsel of the tarot.
This case would yield the following numerological calculation:
0 + 14 + 16 + 11 = 41 = 4 + 1 = 5
Final counsel: The Hierophant→
Trust in yourself and in the meaning of the card. It is also important to develop trust in the upcoming path