₪₪₪ Tarot Day Card ₪₪₪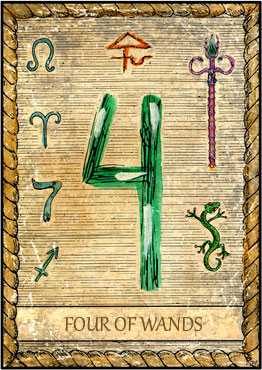 Your Day Card is:
4 of Wands
Today you can make new contacts and new friendships. Take notice of which friendship is true and focus on it. Resolve yourself to be open to everything. You will notice that this is perceived and responded to positively by your environment.
Free yourself of negative thoughts today. Today also is the perfect day to get things done, though you will strain for a long time before it.
Two people get together and achieve something. You may talk to someone today about the way in which you can work together. Teamwork is the key.
It takes time to develop an open mind. Exchange ideas and suggestions with others. Concentrate on networking and try to win favor. Your enthusiasm will allow you to share your vision with others and find support.