₪₪₪ Tarot Spread - Love Oracle ₪₪₪
Card 2
6 of Cups


Sharing, openness and living in the past
Card 1
The Tower

Card 3
Strength


Break, stormy changes and confrontation

Strength, courage and bravery
Card 4
7 of Cups


Fantasies, illusions and dreams
Hallo,
If you have a question relating to relationships, partnership or love, you can use the love oracle spread. With this, you will get a good answer to your question(s).
The first card describes the initial situation: The Tower
The second card illustrates your inner state and motives. For others, this is not necessarily visible: 6 of Cups
The third card provides insight into which relationship your partner has with you: Strength
The fourth card reveals the advice of the tarot: 7 of Cups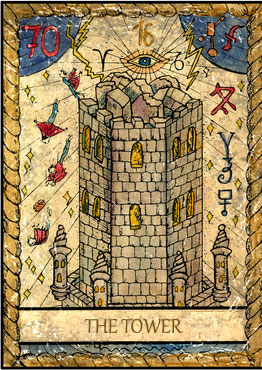 The most important topic of your partnership is shown in card 1.

As first card you drew "The Tower". The main meaning of this tarot card is: Old structures are breaking down. Liberation and new challenges. House of Life when evil prevails therein. The tower is particularly relevant to unforeseen events.. It generally means: Break, stormy changes and confrontation.

The card "The Tower" also stands for: Materialization of spiritual restlessness, grief, misery, poverty, disgrace, deception, collapse, unexpected danger, doom, destruction, disappointment and ruin. Reversed it points to: Same as above, but to a lesser extent.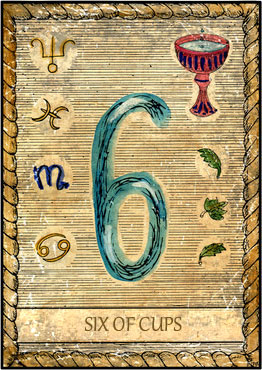 You may not be aware of your inner attitude.

Perhaps through the second tarot card "6 of Cups" is get´s clear to you. The main meaning of this tarot card is: Gladly share. Revive the past. Open encounters with old acquaintances. New relationships. New knowledge. New surroundings. Things that have disappeared.. It generally means: Sharing, openness and living in the past.

The card "6 of Cups" also stands for: Memories, childhood, happiness, enjoyment, innocence, enthusiasm. Reversed it points to: Future, renewal, fulfillment of deferred hopes.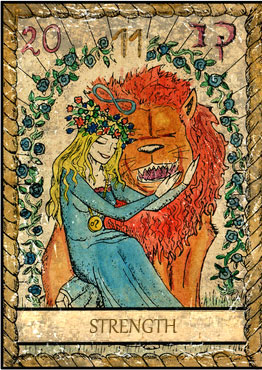 The third card reflects the attitude of the partner to you.

You drew "Strength" as third card. The main meaning of this tarot card is: Lust for life. No more fear. Success and recognition. Moral strength.. It generally means: Strength, courage and bravery.

The card "Strength" also stands for: Electricity, energy, action, courage, passion, vitality, magnanimity, decency, justice, satisfaction, atonement, reward and righteousness. Reversed it points to: Despotism, misuse of power, weakness, disunity, shame and prejudice.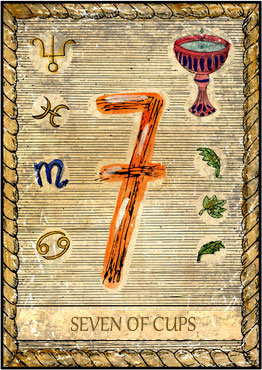 You can find advice in card 4. It gives you tips on what will help you and what you can do.

Your fourth card is "7 of Cups". The main meaning of this tarot card is: Dreams and ideas are aware and also indulgent. Pipe dreams, but also good imagination. Nothing is set in stone.. It generally means: Fantasies, illusions and dreams.

The card "7 of Cups" also stands for: Reflection, mood, contemplation and visions. Reversed it points to: Desire, will and determination.
Now you can calculate the quintessence:
After the cards have been laid out and interpreted, you can still find your quintessence cards. These arise from numerological calculations. Add the worth of each card within your spread and find the sum. This is the quintessence and summarizes what the tarot advises for you.
The court cards (Page, Knight, King and Queen or Prince and Princess) are not counted toward this sum, they have a null value. All other cards count according to their worth, aces are one. In the Rider-Waite tarot deck, you must pay attention to the exchange of the numerical values of Justice and Strength. Justice is counted as 8 and Strength with 11. If, during the calculation, you get a number between 9 and 22, then the corresponding card adds to the counsel of the tarot.
This case would yield the following numerological calculation:
16 + 6 + 8 + 7 = 37 = 3 + 7 = 10 = 1 + 0 = 1
The card "The Wheel of Fortune" gives you an important insight into the counsel of the Tarot:
You must recognize that it is the time to ask questions frankly. Only you are in the position to resolve these challenges
Final counsel: The Magician→
Be active. Only then can new challenges be mastered. Approach completed tasks positively. Trust in yourself, your inspiration and your creativity